Dental Implants Am I A Candidate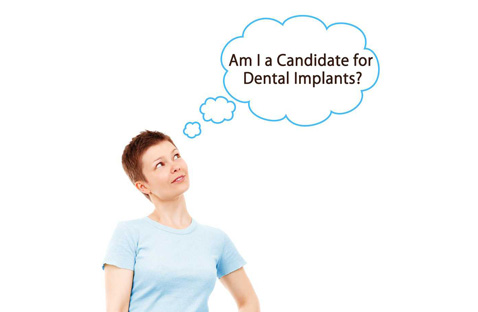 Dental Implant in Yorba Linda is a replacement to the lost root of a tooth. The implant integrates with the supporting bone structure and gains higher stability. This is one of the biggest functional advantages of implanted tooth. For successful integration and long life of dental implants, good oral and overall health may be necessary. Your dentist may look for certain criteria during evaluation before deciding on placement of a dental implant in Yorba Linda. Though all patients are good candidates for dental implants in Yorba Linda and the restoration, some may be evaluated carefully to analyze the risk of failure as compared to others. Speak to your dentist to know more about oral health and overall health concerns for dental implant placement and survival.
The Primary Concerns For Placement of Dental Implants in Yorba Linda
While the successful placement of dental implant depends completely on the skills and knowledge of the dental professional, there are certain factors that raise concerns when it comes to deciding on the surgery.
Healthy Supporting Bone:

The implant is torqued into the supporting bone structure of the patient. Therefore, the bone should have sufficient length and width to hold the implant. When a missing tooth has not been replaced for long, there are chances of bone resorption leading to bone shrinkage. The loss of bone may necessitate the rebuilding of natural bone structure. Dentists take X-rays and perform scanning to check the status of the bone. Patients may be recommended to get bone augmentation done if there is not enough supporting bone to hold the restoration.

Diabetes:

Poorly controlled diabetes is a condition that raises concerns during implant restoration procedure. The condition can increase the healing period by reducing the body's ability to heal. Uncontrolled diabetes can also increase the chances of infection since the immune system gets affected. All these factors may increase the risk of failure. Dentists can evaluate the medical history and oral health condition of patients to provide them the right advise regarding implant placement.

Smoking:

Smoking can be a problem to dental implants during the healing period. Nicotine is capable of affecting peripheral blood vessels in the oral cavity and reducing blood flow to the supporting bone. This can directly impact the healing process of dental implant in Yorba Linda. Smoking further reduces the saliva in the oral cavity and increases the chances of dental infection, which is a problem not just to dental implants but oral health itself.

Radiation Therapy in Head and Neck Region:

Radiation therapy in the head and neck region raises concerns since it can affect the growth and development of cells in the oral cavity. This can intervene in the process of healing. Dentists may advise patients to go for the implant surgery after the completion of radiation therapy.

If you have any queries related to Dental Implant Treatment in Yorba Linda, feel free to consult our Dentist today.