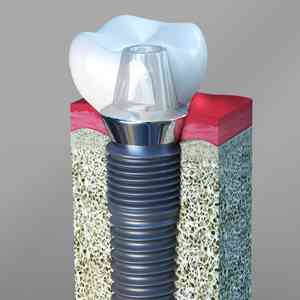 A number of problems can arise when you have lost a tooth. It certainly affects your ability to bite and chew food. When a number of teeth are missing, you may loose confidence to eat hard food items. Did you know that there could be other complex oral problems from tooth loss? To counter such issues and to improve oral health many teeth restorations have been developed. With advancements in technology, these restorations are getting better day-by-day, serving the necessities of patients. Dental implants in Yorba Linda have been arguably one of the finest among replacements for lost teeth. With the implants being made out of biocompatible material, well-maintained implanted teeth can last for the entire-life of the patient. Are you suffering from teeth loss? Make an appointment with our implant dentist in Yorba Linda, California to get a fair idea on how dental implants in Yorba Linda can help you regain a healthy smile.
Treatment for Teeth Loss and oral Health with Dental Implants in Yorba Linda:
There can be a number of reasons for teeth loss. Gum infection, teeth decay, aging and trauma are some of the most commonly known causes of teeth loss. Losing a tooth can firstly create a sense of discomfort to bite and chew food. With time, the teeth nearby tend to shift positions moving towards the gap. This takes place because of imbalance in the dentition created from tooth loss. The gap in the dentition attracts food particles. Food lodgment in this gap can increase the chances of Gum infection.
Bone resorption is another phenomenon which takes place when there are a few teeth missing in a row. This causes the skin to sag and makes the patient look old. Dental implants in Yorba Linda are the only teeth restoration which can address all these problems. Once in place, the implant can finely increase the chewing efficiency and protect the supporting bone.
The Procedure of Dental Implants in Yorba Linda:
Just about anyone can get a dental implant treatment in Yorba Linda as long as he/she has healthy supporting bone. The procedure is performed with the help of local anesthesia. The restoration process takes place in two steps. The first phase is where the implant dentist surgically places the dental implant in the jawbone. A small incision is made in the gums and our implant dentist in Yorba Linda uses different types of drills to create a bony recess. The dental implant is carefully torqued in the jawbone according to planned position. The gums are sutured back and left to heal. During the healing period, the implant integrates with the jawbone.
Our Yorba Linda implant dentist takes the impression of the implant post and other teeth to get the dental crown fabricated in the lab. The crown is commonly made of porcelain to replicate the appearance of natural tooth. An abutment is fixed over the implant and the crown is cemented over it. Once in place, our implant dentist explains patients about maintaining good oral hygiene. Proper care can ensure that the implanted tooth lasts longer.
Benefits of Dental Implants in Yorba Linda:
Dental implants offer benefits that other tooth replacement options like dentures and bridges cannot provide. Here are the 5 benefits of dental implants in Yorba Linda:
Behave Like a Natural Teeth: One of the main advantages of dental implants is it behaves like a natural tooth and restore full chewing power. With dental implants, people can eat, brush, and floss normally as well.
Improved Appearance: As Dental implants look and feel like a normal tooth, they also improve your appearance, give you a smile that both looks and feels natural.
Dental Implants are Versatile: Treatments such as bridges and dentures are limited to replace certain teeth. However, dental implants in Yorba Linda are versatile. They can be fitted with a crown to replace a single tooth or a bridge and dentures to replace multiple teeth.
Make It Easier to Speak: Teeth play an essential role in helping us form certain words, missing a few teeth can make it difficult to speak. Dental implants in Yorba Linda can fix this issue by placing an implant and provide a surface for your tongue to press against when forming words.
Won't Get Cavities: Artificial teeth need to be careful to prevent bacteria from building up in your mouth and causing infection. But, dental implants in Yorba Linda are made of a material that can't be decayed. You'll never have to worry about getting cavities in your dental implants!
Am I a Good Candidate for Dental Implants?
Many patients have this question. But the only way to know if your a good candidate for dental implants in Yorba Linda is by visiting our implant dentist.
However, if you have healthy gum and bone tissue, then you're a good candidate for dental implant treatment in Yorba Linda. If the candidate doesn't have healthy gums, our implant dentist will perform a gum graft to strengthen and heal your gum tissue. These will delay your implant procedure, as your gums need to heal fully before placement.
At Bruce M. Rogers, DDS, our implant dentist design each treatment plan with careful consideration of your unique case, so we not only replace your missing teeth but also restore the optimal function and beauty of your mouth.