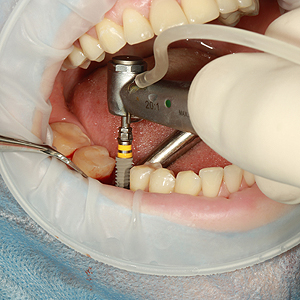 If your dentist has advised you about dental implants and you are skeptical about the treatment, you are not alone. It's a common feeling. Family dentist looks into a lot of factors before recommending dental implants. Dental implants are the safest option. In our previous blog, we have explained 5 factors adversely affecting dental implants in Yorba Linda. Let's discover the steps a patient goes through from the time he/she has been advised for dental implant treatment.
An Examination for Dental Implants in Yorba Linda:
The very first step is for your dentist to schedule a comprehensive exam. This is to thoroughly check the oral health conditions. This can include X-rays and also 3D scans. Even if your family dentist in Yorba Linda knows exactly what your oral condition is, this step is necessary. It will ensure that your gums and jaw are healthy enough to use an implant and to develop a treatment plan that works best for you.
Scheduling Dental Implants Surgery in Yorba Linda:
Once you have completed the full examination, the dentist in Yorba Linda will schedule the surgery for you. It is the first step in the implant treatment. A titanium implant will be affixed on the jaw and this process may take an hour or a couple of hours to complete.
Healing Phase:
Once this step is completed, most dentists wait around 3 months for the final restoration of the denture. Every treatment's healing phase is very important and in dental implants, it's very vital. The time took maybe a little longer as the dental implants in Yorba Linda need to integrate into the bone.
Post-Surgery Recovery:
After the surgery, bruising, pain or swelling can be experienced by some. This may depend on your dentist's work during the time of installing the implant. If a tooth has to be removed in the process, the possibilities of bruises or swelling can go up. The healing time is usually around 3 months.
Fixing the Crown after Dental Implants in Yorba Linda:
The final step, after the healing process, is the least invasive procedure of placing the abutment and crown on the implant. After the abutment is fixed, the new artificial crown will be placed and the treatment is complete.
Results:
You will notice that your dental implant looks like any other normal tooth in your mouth. It's a payoff and will put a beautiful smile on your face.
Conclusion:
If you are looking for a good dental clinic that offers the best services in Yorba Linda, California then Bruce M. Rogers, DDS is a perfect pick. Bruce M. Rogers DDS is the finest when it comes to family dentistry in Yorba Linda. The clinic offers world-class services in dental crowns, dental implants, lumineers, orthodontics, veneers, and many more. Browse through our website of Dr. Bruce M. Rogers, DDS to discover more details or dial them at 714-970-6331 for a conversation.