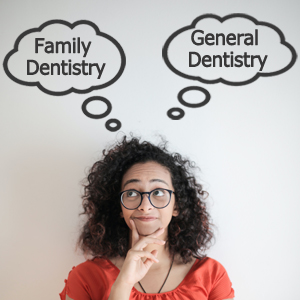 Before you choose to visit a dentist, you need to know if you need general dentistry or family dentistry services. There are significant differences between these two. In our previous blog, we have explained 5 common dental services offered by family dentistry in Yorba Linda. However, if you want to find out which dentist/dental service is the right one for you and your family, please read on.
What Is A General Dentist?
Like all other dentists, a general dentist's prime goal is to help you maintain a beautiful smile. They cater to a specific age group. But if you need dental care for your small child, you need to look for a pediatric dentist. It is important to check the services that a general dentist offers.
What Services Does General Dentistry Offer?
In addition to regular check-up and cleaning, a general dentist can help you with RCT, dentures, Invisalign, tooth extraction, crowns, veneers, and many more. A general dentist is not specialized or has expertise in specific dentistry services. For dental procedures like implants, a general dentist may take help from a periodontist or an oral surgeon.
What Services Does Family Dentist in Yorba Linda Offer?
A family dentist in Yorba Linda offers all the services that a general dentist provides. But there is a difference. If you plan to schedule a dental care appointment for your entire family, you need a family dentist. A family dentist has expertise in dental procedures for all age groups.
Convenience:
Hence, instead of visiting multiple locations for your children and elders, you get dental care for your entire family under one roof. An obvious benefit of choosing a family dentist in Yorba Linda is the convenience. You do not have to run around and work on a tight schedule to save time.
Services Offered by Family Dentistry in Yorba Linda:
A family dentist focuses on unique dental issues that arise in adults and children. There are many services provided by family dentistry in Yorba Linda but are not limited to:
Regular check-ups and cleaning
Preventive dental care
Diagnosis and filling of the cavities
Fluoride treatment
Dental braces and Invisalign, orthodontic treatment
Periodontal treatment
Educating patients on proper oral care
Choose between family dentistry or general dentistry based on your personal and your family's unique requirements.
Conclusion:
A positive and painless dental care experience is extremely important. And when it comes to dental care for your family, a family dentist can provide you with a smooth dental experience. Our family dentist also provides dental implants in Yorba Linda. The clinic of Bruce M. Rogers, DDS, will take care of all your dental requirements. Schedule an appointment with Dr. Bruce M Rogers. Bring in your family to experience dental care in a friendly and relaxed environment. Browse through our website of Bruce M. Rogers, DDS to arrange for an appointment. Call us at 714-970-6331 to speak to the representatives directly.