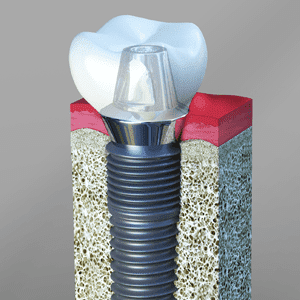 Dental implants in Yorba Linda, unlike dentures, are the finest way to find a solution to lost teeth. They are lasting and reinstate the natural connection shared by the roots of teeth and the jaw bone. Without this interplay, one's jaw bone tissue will be lost gradually. Dental implants in Yorba Linda provides many other conveniences as well.
In our previous blog, we have discussed about family dentistry dental procedures and their benefits. Read on to discover five staggering advantages of dental implants in Yorba Linda.
Understanding Dental Implants in Yorba Linda:
Dental implants are reliable and enduring substitutes for tooth roots. They offer a firm foundation for permanent/fixed teeth or detachable replacement teeth which are manufactured to complement the natural teeth. If you have any queries, reach out to Dr. Bruce M. Rogers, a Dentist in Yorba Linda at Bruce M. Rogers, DDS dental clinic.
5 Advantages of Affixing Dental Implants in Yorba Linda:
Natural and Permanent:

Dental implants in Yorba Linda provide a true counterpart of the natural teeth. Bridges and dentures are capable of replicating the crown. But there is no substitution for tooth roots. Dental implants function as a replacement for the original root. Implant mingles with bone tissues like the natural tooth root. This offers a firm and everlasting base to soak up and shift the stress of speaking, eating etc.

Restores Many Capabilities:

Missing teeth can be interpreted as having an incomplete digestive cycle. If the food breakdown doesn't happen appropriately in the mouth, then the intestines and stomach must find another way to process the food. Dentures will bring back chewing capability partially. But dental implants in Yorba Linda can restore chewing and speaking abilities permanently.

Maintaining Facial Characteristics:

Cheeks cave in if permanent teeth are absent. This is because jaw bone atrophies without tooth roots enabling extra collapse. Permanent dental implants Yorba Linda stops such collapses resulting from lack of bone tissues. It also prevents any abnormalities caused by the lack of teeth.

A Versatile Choice:

One implant is capable of supporting numerous crowns. Therefore, every lost tooth does not require an equal number of dental implants. Moreover, hybrid implant mechanism allows more than two implants to function as snap-on position for denture plates.

Long-Standing and Successful:

The reliability of dental implants in Yorba Linda is heightened due to the rising rate of success and innovations. This has made dental implants reliable and versatile. Nothing separates caring of natural teeth from caring for dental implants. If dental implants are complemented by systematic dental visits and excellent at-home routines, they will last the longest.
Conclusion:
If you are in Yorba Linda and have plans to affix dental implants, consider Bruce M. Rogers, DDS. Our family dentist in Yorba Linda provides dental service without any compromise in quality. To gather more details regarding dental implants or other dental services offered, call us at (714) 970-6331 and schedule an appointment now.